The Arboretum Line
Operating trains from Lichfield to Alrewas and the
National Memorial Arboretum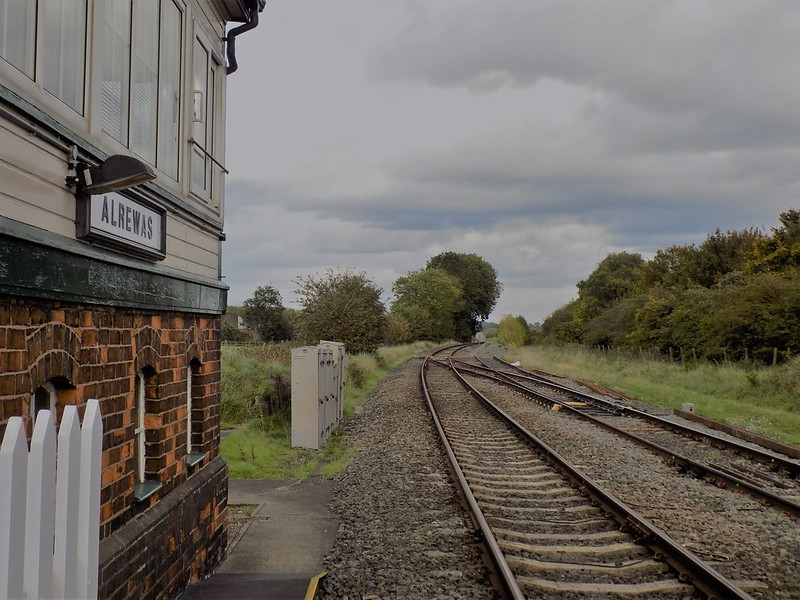 As part of the latest government thinking on improving the UKs transport infrastructure the Department for Transport has acknowledged the huge potential of rail lines closed under the 1963 Beeching Act, and as a result has recently launched a £500 million 'Ideas Fund' to look at the feasibility of reopening many of them.
 Initial proposals were invited in February this year with 10 projects* being allocated funding to undertake feasibility work. A number of other proposals have received feedback and are being encouraged to resubmit. This includes a bid from a consortium led by Transport for West Midlands in partnership with Staffordshire County Council and the West Midlands Rail Executive (WMRE) for restoration of passenger services on an existing 6 miles of freight line between Lichfield and Burton-on-Trent, including a new station at Alrewas. The bid is being sponsored by both Michael Fabricant MP for Lichfield and Kate Griffiths MP for Burton.
 Since the opening of the National Memorial Arboretum (NMA) in 2001 there has been frequent talk of reopening the old Lichfield to Burton railway line in order to provide regular passenger services. The track is currently only used by diversions (pictured below) or occasional freight traffic but reopening the line for passenger services could provide significant economic benefits for the people of Lichfield, Alrewas and surrounding areas.
 For more information on the 'Ideas Fund' bid click here.
In support of the WMRE bid, Transport for Britain is exploring the setting up of a pilot train service between Lichfield and Alrewas / National Memorial Arboretum. We are conducting a survey to identify whether there is sufficient passenger demand and enough people to provide either time or financial resources to help make this happen. Please click here to take our survey and show your support.
There is a precedent for operating a heritage type service using either Diesel or Steam traction to run passenger trains over parts of the existing mainline rail network and we are currently investigating whether this could be applied to the Lichfield – Alrewas route. Extending services beyond Alrewas to Burton, Derby or Nottingham will require additional consent from Network Rail to allow shared access with existing Cross Country operations between Tamworth and Derby. It could also link to the *Ivanhoe Line (Burton to Leicester).
A New Station at Alrewas
The original station and platforms were removed when the line closed.
Other Heritage railways have assembled simple wooden station platforms for as little as £10,000 assuming labour is provided on a volunteer basis. With over 300,000 visitors per year we are confident the added attraction of connectivity to the NMA would mean there is no shortage of support to facilitate a low-cost pilot project quickly and easily assuming all safety considerations have been addressed and appropriate planning permission obtained.
Currently the only easy way to get the NMA is by car as demonstrated by the Aerial photo showing how full the parking areas are. The photo also shows the proximity of the proposed Alrewas station site (circled in red). In the longer term a pedestrian / bicycle underpass would be very useful to properly link the station and NMA to Alrewas village (separated by the A38).
.
Launching a new service
There is an opportunity now to launch a service based on an initial funding campaign which could in time be self-funding dependant on demand and a sufficient pool of willing support to maintain and operate a regular train service.
The skills and roles needed could include: website / social media management, railway experience, business development, operational services – stations / trains / ticketing. If this is something that you or someone you know may be interested in please complete our survey or register your name and contact details by completing the form below or e-mail us at enquiries@arboretumline.uk
Transport for Britain has committed to provide match funding of up to £100,000 in addition to money raised from this campaign.
If you would like to know more about the Arboretum Line and other Transport for Britain projects or have any comments on our projects or news items please send us a message by completing the form below.
Submitting your details indicates your consent for us to store and process your personal data as explained in our privacy notice. Please read this important notice, which contains details on how to exercise your privacy rights, including opting out of direct marketing.